Supports multi-channel IO expansion.
Allows connecting different measurement range of CTs in one expansion module.
Powered by iWSN sensing module.
Removable screwed terminal block for easy maintenance.
Offers wall-mount mechanism and magnet for installation.
Introduction
In order to upgrade the flexibility and expansibility of iWSN sensing module, the iXN expansion module is developed to connect to the iWSN sensing module. By means of iXN expansion modules, the iWSN sensing module can offer more current and temperature measurement channels. The iXN expansion module is energized by iWSN sensing module so that there is no external power supply needed. For convenient setting up and maintaining the application, the iXN expansion module provide removable screwed terminal block, wall-mount mechanism and magnet adsorption for installation, and also allows connecting different measurement range of CTs to fit various applications. More kinds of IO interface will be designed to rich the iWSN functionalities and unleash the power of iWSN sensing modules.
Application
iWSN sensor and iXN-7CT5 connection diagram.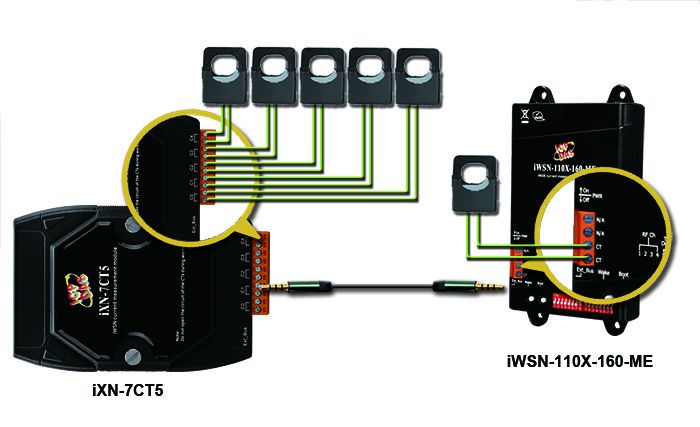 Specifications
Temperature Measurement

Channels
7
Range
0 °C ~ +80 °C
Accuracy
±2 °C
Installation
Wall-mount or magnet adsorption
CT

Split-core CT Channels
5
Split-core CT Type
Φ16mm (100A), Φ24mm (200A), or Φ36mm (400A); 8 m wire
Input Voltage
Maximum 500VAC, 60 Hz
Accuracy
±3% or ±0.3A
Power

Consumption
1-sec Tx Duty: 21 A
10-sec Tx Duty: 13 A
30-sec Tx Duty: 12 A
60-sec Tx Duty: 12A
Input Type
iWSN sensing module provides power through the audio line.
Mechanical

Dimensions (mm)
72 x 115 x 35 (W x L x H)
Installation
DIN-rail or magnet adsorption
Environment

Operating Temperature
0 °C ~ +45 °C
Storage Temperature
-20 °C ~ +50 °C
Humidity
10 ~ 90% RH, Non-condensing
Accessories
| | | |
| --- | --- | --- |
| | | |
| CA-SCT16I-100A-L080 | CA-SCT24I-200A-L080 | CA-SCT36I-400A-L080 |
Description
| PRODUCT SERIES | DESCRIPTION | QTY | INQUIRY |
| --- | --- | --- | --- |
| iXN-7CT5TM7 CR | iXN Extension Module with 5-ch CT Input and 7-ch Thermistor Input (RoHS) (Asia Only) (Optional 100A/200A/400A CT) | 1 | |