Data Acquisition
WISE-5800-MTCP
Runs on browsers, no extra software tool is required.
No more programming, Web pages provided for control logic editing.
IF-THEN-ELSE logic rules execution ability.
Support XW-Board.
Support Modbus TCP Slave Devices(Up to 7).
Support I/O channel monitoring/control, Timer, Schedule, Recipe operations.
Support non-SSL Email sending, CGI Command sending operations.
Data logger and data files send back function supported.
Modbus TCP/RTU Protocol for SCADA Software Seamless Integration.
Introduction
WISE (Web Inside, Smart Engine) is a product series developed by ICP DAS that functions as control units for use in remote logic control and monitoring in various industrial applications. WISE offers a user-friendly and intuitive web site interface that allows users to implement IF-THEN-ELSE control logic on controllers just a few clicks away; no programming is required. With its powerful and easy-to-use features, it will minimize the learning curve, shorten time to market and dramatically reduce the effort and cost spent on system development.

WISE-5800-MTCP supports an I/O expansion bus to implement various I/O functions such as D/I, D/O, A/D and D/A according to the XW-Board. In addition, WISE-5800-MTCP also supports Modbus TCP slave devices. Based on the connection ability with Modbus TCP slave devices, WISE-5800-MTCP can provide user more flexibility in application field.

WISE-5800-MTCP supports Modbus TCP/RTU protocol to make seamless integration with SCADA software available. It includes all advantages which WISE series controllers can provide. In addition, WISE-5800-MTCP provides data logger function with microSD card, it can record I/O channel value by event trigger or regular time period. The data files can be sent back by Email or FTP. All setting can be completed through browser.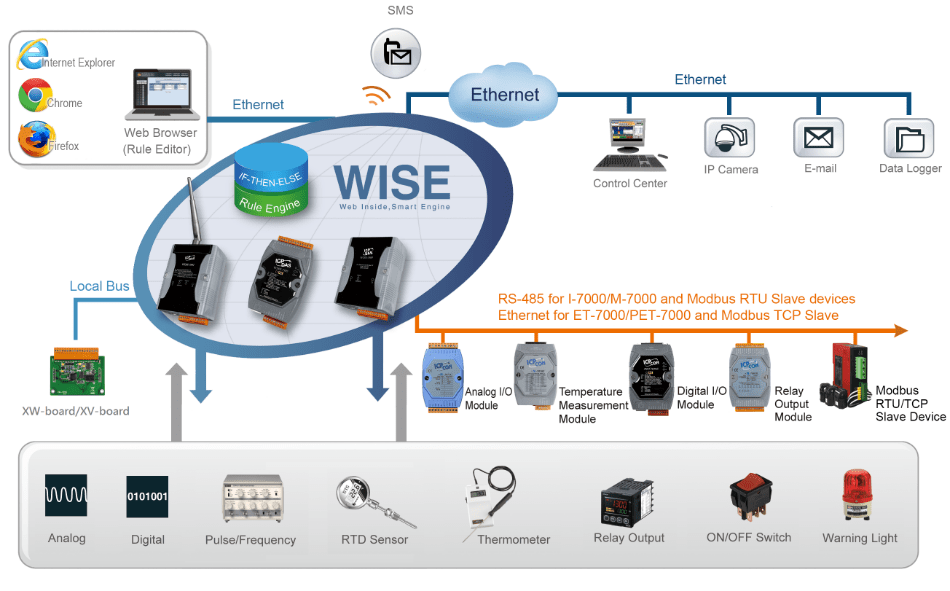 Application
Building Automation, Factory Automation, Machine Automation, Remote Maintenance, Remote diagnosis and Testing Equipment, etc.
Specifications
Software

Protocol
• Modbus TCP & Modbus RTU
• FTP Client
• CGI Command (Sending)
• Active I/O (Modbus TCP Master)
Function
• Web Interface for Configuration
• IF-THEN-ELSE Logic operation (36 rule supported)
• I/O channel monitoring and control
• Timer operation (12 set supported)
• Schedule operation (12 set supported)
• Data Logger operation (1 set supported)
• Internal Register operation (48 set supported)
• Recipe operation (12 set supported)
• non-SSL Email sending function
• SNTP Time Synchronization
CPU Module

CPU
16-bit CPU (80 MHz)
Storage Expansion
Support 1G/2G/4G/8G/16G/32G microSD card
LED Indicators

Status
1 x System Status
1 x MicroSD Card Status
1 x Ethernet Link Status
I/O Expansion

I/O Type
XW-board
Remote Module Support
Modbus TCP Slave Module
COM Ports

Ports
COM 1: RS-232 (TxD, RxD, RTS, CTS, GND), non-isolated, Speed: 115200 bps max.
COM 2: RS-485 (Data+, Data-) with internal self-tuner ASIC; non-isolated, Speed: 115200 bps max. (Reserved)
Ethernet

Ports
RJ-45 x 1, 10/100 Base-TX (Auto-negotiating, Auto MDI/MDI-X, LED indicators)
Power

Reverse Polarity Protection
Yes
Input Range
12 ~ 48 VDC
Redundant Power Inputs
Yes
Consumption
2.0 W
Mechanical

Dimensions (mm)
91 × 123 × 52 (W x H x D)
Installation
DIN-Rail Mounting
Environment

Operating Temperature
-25 ~ +75 °C
Storage Temperature
-30 ~ +80 °C
Humidity
10 to 90% RH, Non-condensing
Accessories
| | |
| --- | --- |
| | |
| MDR-20-24 | NS-205 |
Description
| PRODUCT SERIES | DESCRIPTION | QNT | INQUIRY |
| --- | --- | --- | --- |
| WISE-5800-MTCP CR | Intelligent User-defined I/O Module for Modbus TCP Devices (RoHS) | 1 | |