Data Acquisition
M-7019Z-G/S
10 Analog Inputs
Provides Stable and Consistent Temperature Output
Jumper Selectable Voltage or Current Input
High Over-voltage Input Protection
High Common Voltage Protection
Individual Channel Configuration
Open Thermocouple Detection
Built-in Dual Watchdog
Introduction
The M-7019Z is a 10-channel universal analog input module with an RS-485 interface that is specially designed for extremely accurate thermocouple measurement and features automatic cold-junction compensation for each channel to ensure temperature output consistency and stable temperature output in the field. The innovative design of the enhanced model ensures that thermocouple measurement is more accurate than with the earlier design.

Besides the thermocouple inputs, The M-7019Z also supports voltage and current inputs. The voltage input range can be from ±15 mV to ±10 V, and the current input range can be either 4 ~ 20 mA, 0 ~ 20 mA, or ± 20 mA. Up to 10 analog inputs of different types can be connected to a single module.The module also provides up to 240 Vrms overvoltage protection and features per-channel open wire detection for the thermocouple and +4 ~ +20 mA input types.
Application
• Building Automation
• Factory Automation
• Machine Automation
• Remote Maintenance
• Remote Diagnosis
• Testing Equipment
Specifications
CPU Module

Watchdog Timer
Module, Communication (Programmable)
Isolation

Intra-module Isolation
3000 VDC
EMS Protection

EFT (IEC 61000-4-4)
±4 kV for Power Line
ESD (IEC 61000-4-2)
±4 kV Contact for Each Terminal
LED Indicators

Status
1 x Power and Communication
Analog Input

Channels
10 Differential
Type
Voltage
Current
Thermocouple
Sensor Type
Thermocouple: J, K, T, E, R, S, B, N, C, L, M, LDIN43710
Stable and Consisten Temperature Output
Yes
Range
Voltage: ±15 mV, ±50 mV, ±100 mV, ±150 mV, ±500 mV, ±1 V, ±2.5 V, ±5 V, ±10 V
Current: ±20 mA, 0 ~ +20 mA, +4 ~ +20 mA (Jumper selectable)
Resolution
16-bit
Accuracy
±0.1% of FSR
Sampling Rate
10 Hz (Total)
Input Impedance
Voltage: 2 MΩ
Current: 125 Ω
Thermocouple: > 400 kΩ
Common Voltage Protection
±200 VDC
Overvoltage Protection
240 Vrms
Individual Channel Configuration
Yes
Open Wire Detection
For Thermocouple (Software Selectable) and 4 ~ 20 mA
COM Ports

Ports
1 x RS-485
Baud Rate
1200 ~ 115200 bps
Data Format
(N, 8, 1), (N, 8, 2), (E, 8, 1), or (O, 8, 1)
Protocol
Modbus RTU, DCON
Power

Reverse Polarity Protection
Yes
Input Range
+10 ~ +30 VDC
Consumption
1.8 W Max.
Mechanical

Dimensions (mm)
M-7019Z: 73 x 116 x 34 (W x L x H)
DB-1820: 65 x 78 x 22 (W x L x D)
Installation
DIN-Rail Mounting
Environment

Operating Temperature
-25 ~ +75 °C
Storage Temperature
-40 ~ +85 °C
Humidity
10 ~ 90% RH, Non-condensing
Accessories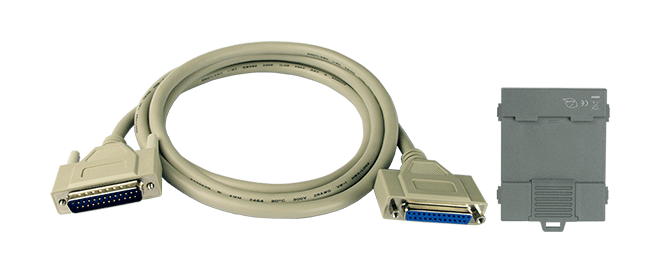 CD-25015 CD-2518D