Industrial Gateway
I-7547
Support HART Short/Long frame
Support HART Burst mode
Support point-to-point or multi-drop HART mode
Support connecting up to 15 HART slave devices
Allow two HART masters
Provide HC_Tool utility for module configuration and HART communication
Support firmware update via Ethernet
4KV ESD Protection
Built-in Watchdog
Selectable 250Ω load resistor
Provide four HART channels
Support VxComm technique
Built-In Web Server for network setting
Support HART Pair-Connection
Introduction
I-7547 is an Ethernet to HART converter and can be used as a HART master with HC_Tool utility or a HART slave with HDS utility.
(1) I-7547 as HART Master :
When connecting I-7547 to PC via Ethernet and install the VxComm utility, it will allow users to access the HART devices via virtual COM-port of PC. Therefore, users can make data collection and processing of HART network easier and quicker by applying I-7547. In addition, we also provide the free HC_Tool utility for module configuration and HART communication test easily.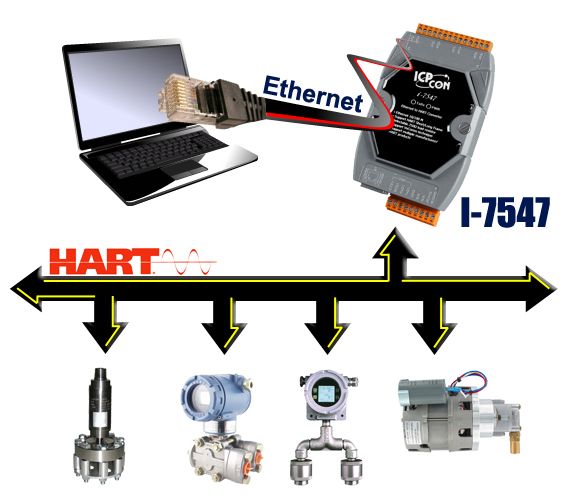 (2) I-7547 as HART Slave :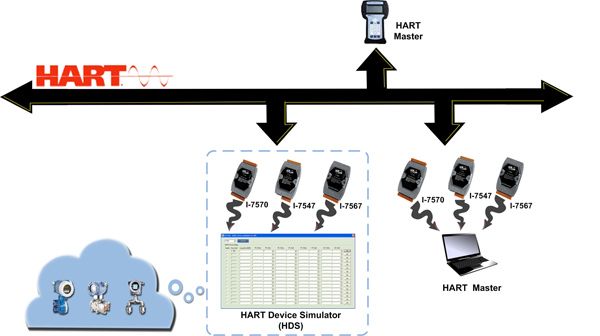 HART Device Simulator (called HDS) is the HART device simulation software developed by ICP DAS. It can be used to simulate multi HART slave devices simultaneously to exchange data with HART master device by using ICP DAS HART converter (like: I-7567 / I-7570 / I-7547) connected to any COM port (USB / 232 / 485 / Ethernet). By this way, users can develop or verify the HART master program without any HART slave device.
Application

Current Measuring
Petrochemical Industry Application
Environment Monitoring
Tunnel Monitoring
Monitor system
Building Monitoring
Specifications
LED Indicators

Status
PWR : Power Indicator
TxRx : Data Received from Ethernet / HART Indicator
Ethernet

Ports
10/100 Base-TX with Auto MDI/MDI-X
Built-In Web Server
Yes
Virtual COM
Yes (VxComm Utility)
HART

Ports
4
Terminal Resistor
Selectable 250 Ω terminal resistor for each HART port
Isolation
500 VDC
Power

Reverse Polarity Protection
Power reverse polarity protection, Over-voltage brown-out protection
Input Range
Unregulated +10 ~ +30 VDC
Consumption
Maximum : 1.5W
Mechanical

Dimensions (mm)
123 x 72 x 35 (H x W x D)
Installation
DIN-Rail or Wall Mounting
Environment

Operating Temperature
-25 ~ +75 °C (-13 to 167 ℉)
Storage Temperature
-30 ~ +80 °C (-22 to 176 ℉)
Humidity
5% ~ 95% RH, Non-condensing
Description
| PRODUCT SERIES | DESCRIPTION | QTY | INQUIRY |
| --- | --- | --- | --- |
| I-7547 CR | Ethernet To HART Converter (Gray Cover) (RoHS) | 1 | |