Industrial Gateway
HRT-710
Support HART Short/Long frame
Support HART Burst mode
Allow two HART Masters
Working in point-to-point or multi-drop HART mode
Connecting up to 15 HART modules
Support Modbus RTU and ASCII format
Support Modbus Slave mode
Support firmware update via Com Port
Support on-line replacement of HART devices
Support acquire Long Frame Address automatically
Provide LED indicators
Built-in Watchdog
DIN Rail or Wall Mounting
Introduction
The HRT-710 Gateway is specially designed for the master device of HART protocol. It allows the Modbus master to access the HART devices. These HART devices may be a transmitter, an actuator and so forth. In addition, we also provide the software utility, HG_Tool, for module configuration and HART device diagnosis. By using these modules, users can integrate their HART devices into Modbus network easily and quickly.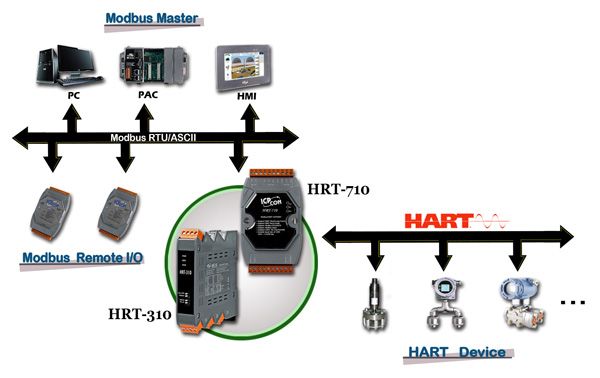 Model
HRT-710
HRT-310
Din Rail Installation
Horizontal
Upright
HART Signal
Standard
Enhanced send/receive signal
(For long distance comm.)
Loop Power
No
Support
(module provides +30V output)
Built-In Resistor
250 Ohm (1/4W)
250 Ohm (1W)
Application

Industrial Automation
Factory Automation
Process Automation
Etc…
---

HRT-710, a HART master to Modbus slave gateway, is applied to integrate the information from these HART flow meters into the customer's HMI system. Through the HRT-710, all of the HART flow meters will be regarded as Modbus slave devices and the HMI system can use the built-in Modbus RTU communication to access these HART flow meters easily.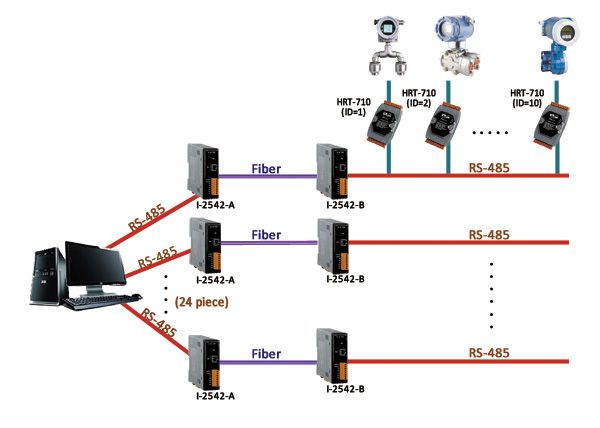 More than 250 HART device information needs to be integrated to surveillance center. In PC side, uses 3 pieces of PCI cards (VXC-148U, for 24 channels RS-485 expansion). I-2542A and I-2542B (RS-485 to Fiber) are used in every RS-485 channel to extend RS-485 communication distance. There are about 20 pieces of HRT-710 modules used in every RS-485 channel with the different station ID. Through the structure, SCADA or HMI system can integrate all HART device information via Modbus protocol easily and quickly.
Specifications
COM Ports

Ports
RS-232(3 wires) / RS-422 / RS-485
Baud Rate
1200, 2400, 4800, 9600, 19200, 38400, 57600, 115200
Protocol
Modbus RTU / Modbus ASCII
HART

Ports
1
Device
2-wired or 4-wired HART devices
Topology
Point to Point or Multi-Drop
Data
Only Digital Data
Frame Type
Short and Long Frame
Burst Mode
Supported
Max. HART Device
15
Loop Resistor
250 Ω (1/4W) by Jumper
Isolation
UL1577 Spec.
Protocol
2-pin screwed terminal block
Loop Power
No
Power

Reverse Polarity Protection
Power reverse polarity protection, Over-voltage brown-out protection
Input Range
Unregulated +10 ~ +30 VDC
Consumption
1 W
Mechanical

Dimensions (mm)
72 x 35 x 121 (W x L x H) Detail
Installation
DIN-Rail or Wall Mounting (Horizontal)
Environment

Operating Temperature
-25 ~ +75 °C (-13 to 167 ℉)
Storage Temperature
-30 ~ +80 °C (-22 to 176 ℉)
Humidity
10% ~ 90% RH, Non-condensing
Description
| PRODUCT SERIES | DESCRIPTION | QTY | INQUIRY |
| --- | --- | --- | --- |
| HRT-710 CR | Modbus RTU/ASCII to HART Gateway (RoHS) | 1 | |