Industrial Gateway
GW-7434D-G
Programmable DeviceNet Master MAC ID
Programmable DeviceNet transfer-rate 125K, 250K, 500K
Supports maximum DeviceNet devices up to 63
Predefined Master/Slave Connection Set
Devicenet I/O Length: 128 bytes max. (Input/Output) per DeviceNet slave
Total DeviceNet I/O Length: 1280 bytes max. (Input/Output) for all DeviceNet slaves
Supports I/O Operation Mode: Poll, Bit-Strobe and Change Of State/Cyclic
Supports maximum 512 bytes Modbus I/O datas for DeviceNet I/O to map
Supports on-line adding device into and removing device from network
Converters single Modbus/TCP to multi Modbus/RTU, setting by Utility
Supports VxComm technique for every COM ports of controllers, setting by Utility
Allowed multi-client (or master) access simultaneously
Supports Modbus RTU to DeviceNet master, setting by Utility
Introduction
The GW-7434D is an economic solution that provides a communication protocol transformation between the DeviceNet protocol and the Modbus TCP protocol. This module solves the problem to connect an existing DeviceNet network to the Ethernet-based PLC, HMI or SCADA for setting up a control or monitoring system. Different to the GW-7243D, the GW-7434D offers the Predefined Master connection Set function and Group 2 only Server function as a DeviceNet master, and enables accessing the DeviceNet slaves automatically and cyclically. If the PLC, HMI or SCADA would like to access the DeviceNet slaves and simultaneously communicate with the Modbus slaves or COM-based devices connected with the RS-232 or RS-485 port of the GW-7434D, the GW-7434D can be the Modbus TCP server or VxComm server to exchange the data with those devices.

Application
---
Typical Applications
Application 1: Modbus TCP/RTU slave to DeviceNet master gateway
The GW-7434D can act as a Modbus TCP/RTU slave to DeviceNet master gateway. Using the module, users don't need to take care of the detail of the DeviceNet protocol. The module will implement the DeviceNet protocol automatically. It mainly supports the Predefined Master/Slave Connection Set functions to allow users to merge I/O data into DeviceNet network by using Modbus TCP/RTU commands.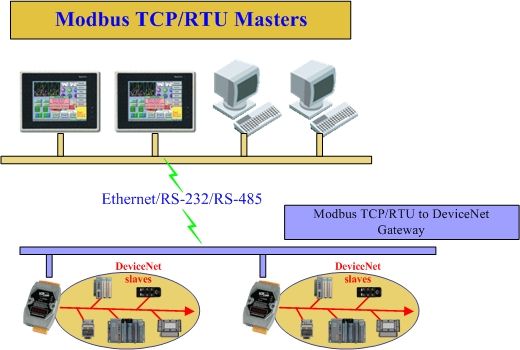 Application 2: a single Modbus/TCP to multi-Mosbus/RTU converter
GW-7434D can be a single Modbus/TCP to multi-Modbus/RTU converter. You can simple use the Utility software to configure the device and then set connection between SCADA, HMI software and the GW-7434D.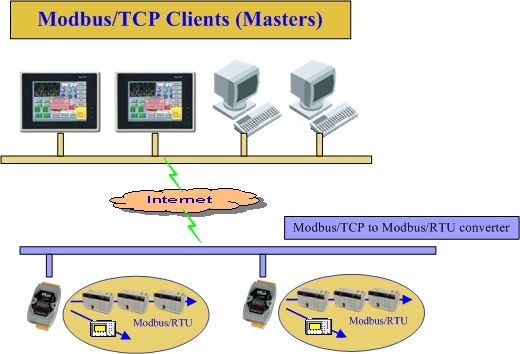 Application 3: protocol converter with VxComm technique
GW-7434D can also be able to link to serial devices that don't support Modbus/RTU. To use this function, you will need to install VxComm driver on host PCs. After installation, you will be able to access the remote COM ports via the standard serial driver.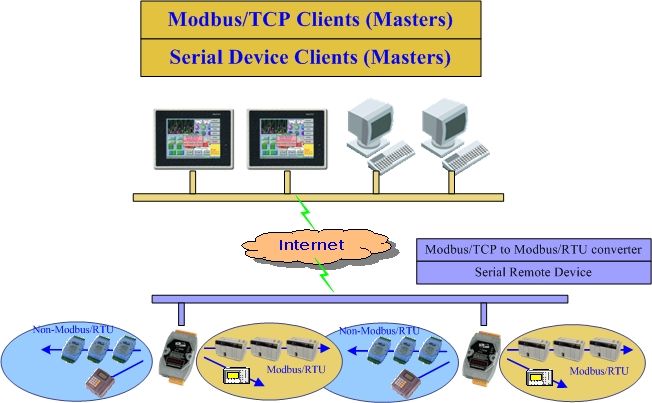 Specifications
CPU Module

CPU
80186, 80 MHz or compatible
EEPROM
16 KB
Watchdog Timer
Yes
LED Indicators

Status
1 x Device status
2 x DeviceNet status
COM Ports

Ports
1 x RS-232
1 x RS-485
Protocol
Modbus ASCII / Modbus RTU
Parity
None, Even, Odd
Data Bit
7, 8
Stop Bit
1, 2
Ethernet

Ports
1 x RJ-45, 10/100Base-T(X) (Auto-negotiating, Auto_MDIX)
Protocol
Modbus TCP
DeviceNet

Controller
NXP SJA1000T with 16 MHz clock
Ports
1
Connection Supported
1 connection for Explicit Messaging
1 connection for Polled I/O
1 connection for Bit-Strobe I/O
1 connection for COS/Cyclic I/O
Isolation
1000 VDC for DC-to-DC, 2500 Vrms for photo-couple
Terminal Resistor
Jumper for 120 Ω terminal resistor
Specification
Volume I, Release 2.0 & Volume II, Release 2.0
Power

Input Range
+10 VDC ~ +30 VDC
Consumption
2.5 W
Mechanical

Dimensions (mm)
72 x 122 x 33 (W x L x H)
Installation
DIN-Rail
Environment

Operating Temperature
-25 ~ +75 °C (-13 to 167 ℉)
Storage Temperature
-30 ~ +80 °C (-22 to 176 ℉)
Humidity
10% ~ 90% RH, Non-condensing
Description
| PRODUCT SERIES | DESCRIPTION | QTY | INQUIRY |
| --- | --- | --- | --- |
| GW-7434D- G CR | Modbus/TCP server to DeviceNet Master Gateway (RoHS) | 1 | |