Industrial Gateway
ECAN-240
Hardware
Fully compatible with the ISO 11898-2 standard
Built-in DIP-switch to enable/disable the terminal resistor
Two CAN bus interfaces with 9 pin D-sub connector
Two rotary switches for selection of CAN bus Baud Rate
Software
CAN bus ID filter
CAN bus listen only mode
Modbus TCP Server function
CAN pair connection
TCP/UDP to CAN transparent communication
Web configuration
Introduction
The IoT (Internet of Things) has been a much discussed topic in recent years. Using the IoT concept, it is easy to integrate the environment of heterogeneous network and let all of the things into be digitized making life more convenient. In order to provide additional access to IoT applications related to industry based on the CAN bus, ICPDAS has developed a new Ethernet product, the ECAN-240.
The ECAN-240 module is a Modbus TCP to 2-port CAN Bus Gateway. As its functionality, that provides communications via the Ethernet based on the Modbus TCP industrial protocol, meaning that the module can be easily integrated with an industrial network. The ECAN-240 module includes two CAN bus interfaces, meaning that more various CAN applications can be supported.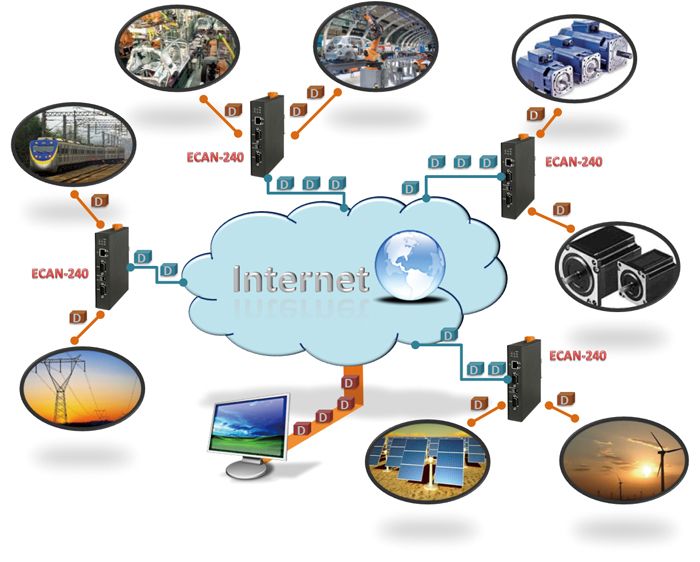 Application

Modbus TCP Server:
The Modbus TCP Server function is used to implement communications between a CAN device and a Modbus TCP Client. When the ECAN-240 module is acting as a Modbus TCP Server, the Modbus TCP Client needs to use Modbus commands based on the CAN format in order to access the ECAN-240 module. The ECAN-240 module will then translate these commands into CAN format messages and send them to the CAN networks. Similarly, when a CAN format message is received from the CAN network, the ECAN-240 translates the message into Modbus format, which can then be accessed using a Modbus command.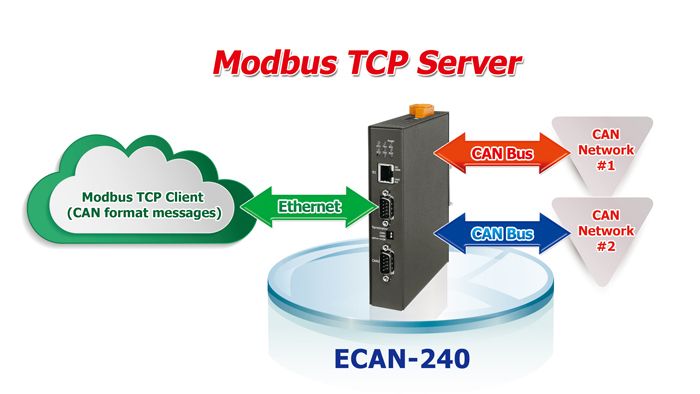 Pair Connection:
The Pair Connection function is used to implement communication between two ends of CAN network. CAN Network #1 can communicate with CAN Network #3 or CAN Network #4 using pair connection configuration. Similarly, CAN Network #2 can also communicate with CAN Network #3 or CAN Network #4 in the same manner. The pair connection function on the ECAN-240 module is implemented via either the TCP or the UDP protocol.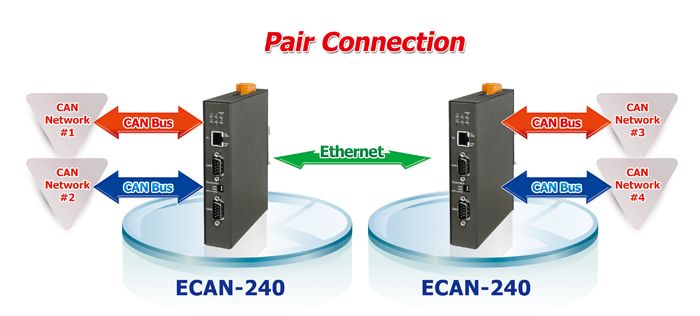 TCP/UDP to CAN (transparent communication):
The Transparent option is to see as a half-pair connections. The TCP/UDP packet is in CAN format and contains the CAN ID. TCP uses port 10003 and UDP uses port 57540. This is useful because it allows custom TCP/UDP programs to be developed that can directly access the ECAN-240 module for specific applications.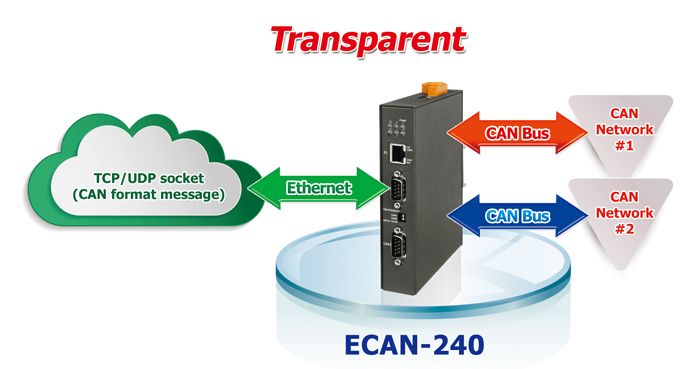 Specifications
LED Indicators

Status
1 x Power
6 x CAN status
Ethernet

Ports
1 x RJ-45, 10/100Base-T(X)
Protocol
Modbus TCP Server, TCP, UDP, HTTP
Socket Connections
8 for TCP, 1 for UDP
CAN

Ports
2
Baud Rate
10 k ~ 1M bps
Isolation
3000 VDC for DC-to-DC, 2500 Vrms for photo-couple
Terminal Resistor
Built-in 120 ohm terminal resistor, enabled/disabled via DIP-Switch
Specification
ISO 11898-2 CAN 2.0A and CAN 2.0B
Filter
Yes
Power

Input Range
+10 VDC ~ +30 VDC
Consumption
2 W
Mechanical

Casing
Metal
Dimensions (mm)
106.8 x 146.8 x 25.9 (W x L x H)
Installation
DIN-Rail
Environment

Operating Temperature
-25 ~ +75 °C (-13 to 167 ℉)
Storage Temperature
-30 ~ +80 °C (-22 to 176 ℉)
Humidity
10% ~ 90% RH, Non-condensing
Description
| PRODUCT SERIES | DESCRIPTION | QTY | INQUIRY |
| --- | --- | --- | --- |
| ECAN-240 CR | Modbus TCP to 2-port CAN Bus Gateway (RoHS) | 1 | |